Far away, across an ocean and thousands of miles, stands a sanctuary unlike any other. The space is cavernous and the voices of worshipers echo against the ancient walls. As you enter, the sanctuary is shrouded in the smoke of incense as candles flicker in the draft. It takes some time, but eventually, your eyes adjust to the concealing darkness and the absolute foreignness of this worship space becomes obvious. The walls are not brick or stone but bone – human bone. Such a realization is enough to make a visitor feel lightheaded and want to get away from such a morbid place. What kind of religion builds such a monstrous worship space? Perhaps we think of Satanists or some extreme death cult. But this is a Christian sanctuary – much to the shock of many unfamiliar with the strange tradition of ossuaries.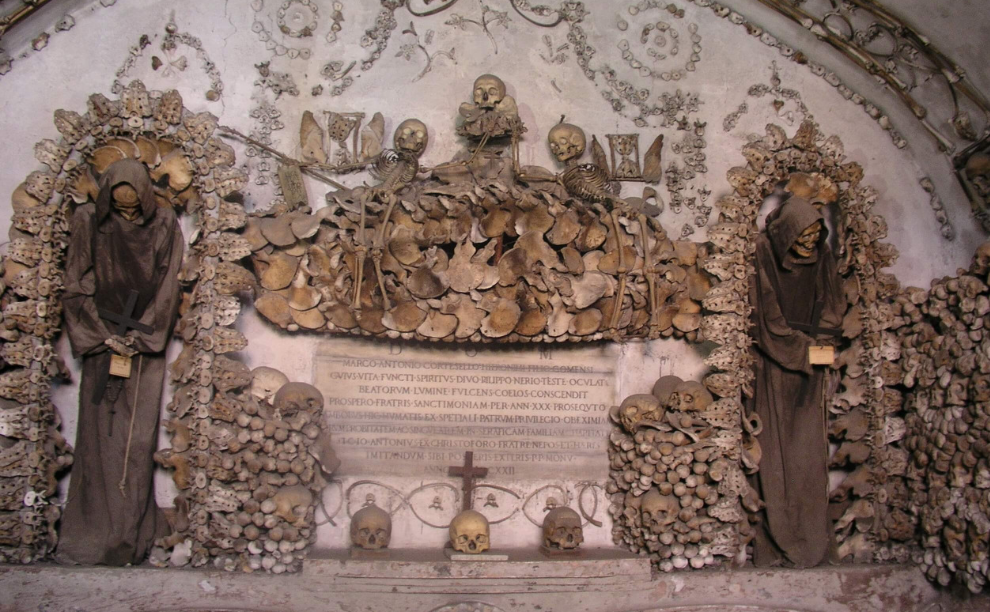 Or imagine you are exploring the ancient Holy Innocents Cemetery in Paris and you come across a large mural against the back wall. This is a Christian cemetery from the fourteenth century, so surely the mural will be of Jesus. Or maybe Lazarus or some other comforting figure from Biblical history. But no, the mural is a series of grinning skeletons leading people into their graves. Kings, priests, peasants, and children are all joining hands with the dead in a grim dance – the danse macabre. What place does this ghoulish work have in a Christian burial ground?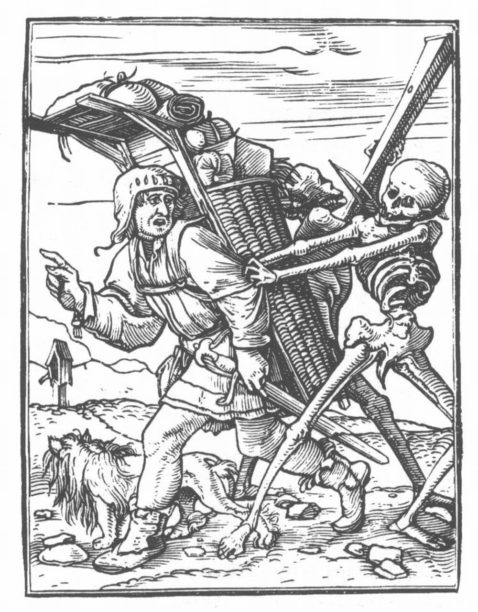 Or closer to home, gravestones across New England from the colonial Puritan era are adorned with winged skulls and crossbones. But these aren't the gravestones of Salem witches, they are found in churchyard cemeteries. The otherwise iconoclastic Puritans of early America found room in their theology for these grim reminders of death on their grave markers.
So what's going on here? Where these Christians obsessed with death? Were they influenced by morbid pagan worship? Or were they on to something that we have lost in the modern world? All the above are examples of what is often called memento mori. At the most basic level, memento mori is a call to contemplate our mortality. The term itself is a Latin phrase that means 'remember you too will die.' This contemplative attitude was encouraged by a wide range of artistic reminders and put our Christian ancestors in mind of our unfailing tendency toward death. In this article, we will briefly consider at memento mori as a Christian practice, speculate on why it disappeared in the modern age, and look for ways to restore a bit of strangeness to the modern Church.
What Happened?
So what happened? How did we get from the Chapel of Bones to megachurches with coffee shops is their foyer? It is always hard to separate cause and effect when looking at historical trends, and so I'll throw out a flurry of circumstances, worldviews, and ideas that helped to shape a radical shift in the Christian imagination. Tracing the exact course of the decline of memento mori is less important than seeing the cultural stew that allowed the decline – and understanding what that means for the modern mind.
First, the modern era has seen a steady increase in life expectancy – from under 40 in the sixteenth and seventeenth centuries to pushing 80 today in the United States. It is easier to push the contemplation of death from our minds when we just aren't faced with this reality at the same rate as our ancestors.
Second, this increase is life expectancy has been coupled with the outsourcing of palliative care and post-death services. What once happened in the next room now happens in hospitals and funeral homes. The grim reality of dealing with a corpse is gone – instead, a simple phone call brings the professionals to take care of everything.
Third, our cultural apostasy from the Christian faith has made death an uncomfortable topic to consider. We, as a people, have been drifting from the Church for generations – and that drift required turning a blind eye to spiritual realities, including the contemplation of our death and what comes after.
These three factors combined in the perfect storm, washing away an ancient practice of the Church. And in their absence, people are looking for ways to ease the ache that gnaws at every living soul. In our culture, we see two conflicting worldviews raging to replace the truth of the Christian practice: hedonism and death worship.
You Can't Ignore Death
We've been pushing death out of our cultural consciousness for a long time and the results haven't been good. Like most things that are bad for us, it felt good at first – even freeing. But eventually the consequences catch up and the good times come crashing down. Death is the result of sin and it is unwise to ignore the growing debt we rack up in our rebellion against the most holy God – but that's just what we do when we refuse to consider our own inevitable death.
(Visited 317 times, 1 visits today)
Against this acknowledgment of death, we have two common defenses. The first is hedonism which seeks to stuff as much carnal pleasure into life as possible. Death is always lurking in the background, but its presence is obscured by a cloud of pleasure seeking. The second is an unhealthy obsession with death – a form a nihilism that also incorporates occult practices and Satanic imagery. An examination of either worldview is beyond the scope of this article, but a quick look at each will help to shape a Christian response to our modern situation.
The hedonist chases after every pleasure. The knowledge of death may start the hedonist on this path, but suppressing that knowledge quickly becomes the goal. Nothing ruins a bender faster than the reality check of death and the judgment to follow. To the hedonist, the Church has an obligation to remind them of the wages of sin. The day of their death will inevitably come, will they be prepared? Against attempts to ignore death, the Church knows the truth and should not be ashamed to proclaim it through word, art, and practice.
Others have reacted against the willful blindness of the hedonists and fixed their gaze completely on death. The culture that grows up around this unhealthy obsession is ugly and dark – and generally demonic in its direction. But they are reacting against the real problems of those who ignore death completely. To the death-obsessed, the Church can offer balance and hope. To those who are caught in this darkness, a sugar-coated gospel does no good. They need to hear the whole truth – an acknowledgment of death but also the promise of resurrection and death's defeat by the pierced hand of Jesus.
So how can the Christian Church recover a full-orbed view of our own death that answers both the hedonists and the death-obsessed? In part, we can recover some of the practices of memento mori from the historical church (while avoiding their own pitfalls) and be a people defined by both living and dying well.
Living and Dying Well
The Christian church is a weird place. It's easy to forget that because it feels like home to us. But to the non-Christian we're weird; our practices, tradition, and liturgy all set us outside the cultural mainstream of the modern West. The temptation is always there to minimize our weirdness and blend in. But when those around us are embracing hedonism and nihilism, being weird is a good thing. And so the first step toward restoring a healthy perspective on death is to embrace our weirdness. I will get into some practical memento mori ideas below, but we should know that we'll get strange looks for being willing to talk openly about death in our modern context.
Embracing the weird will take a corporate commitment to build a distinctive culture that is strong enough to hold up against pressure. Reminding hedonists that they will die will create a backlash and there are a lot of hedonists in our world – and even in our churches. We need to have the relationships and institutions in place to hold fast to our beliefs when they are treated with scorn by those around us.
So enough big picture stuff. How can our churches create little moments of memento mori in today's world?
First, we can work to include memento mori into Christian art. Thomas Kinkade has a place but so does the Danse Macabre by Hans Holbein (pictured above). There are some good songs on Christian radio, but when was the last time you heard lyrics like this, "I have resolved to write about the contempt of the world, that the now living will not bide their time in vain things. Now is the hour to rise from the evil sleep of death...You will be a vile corpse, why not avoid sinning?" from the fourteenth-century work Ad Mortem Festinamus1? We should seek to reflect the whole truth of God in our art, not just the parts that make us feel warm and fuzzy.
Second, the church can be a place where death is not hidden away. Make the needs and requests of the dying known among the congregation, volunteer with end-of-life care through local hospice ministries, and make funeral services available (preferably for free) to the public. Being experts in death might sound like a morbid thing, but it is absolutely true of the Christian church. A world that ignores death at every turn will be lost when it comes upon them – the church has an opportunity to minister in that space. In the longer view, local churches can pursue locations that would allow for a return to traditional church graveyards, so that worshipers have a visual reminder of death as they enter the church.
Third, we can incorporate memento mori into our liturgical practices. This will look different within different traditions, but consider observing the Church calendar as a way to begin incorporating healthy discussions of death into the culture. Big observances like Ash Wednesday and Good Friday are an obvious starting point, but the Church's cycle of feasts and commemorations provides plenty of opportunities to consider death – both ours and those who came before us.
When the Church ignores the topic of death, we are robbing the world of something a healthy soul must contemplate. This is not a call to be morbid or death-obsessed, but a call to speak the whole Gospel to a fallen world – both the wages of sin and the gift of grace. This short article is just a look in the direction of restoring a healthy view of death – just the beginning of a (much-needed) conversation. I'd love to hear how you or your Church deals with these issues in the comments below.
References:
"The Music from the Llibre Vermell of Montserrat." Llibre Vermell (Texts), dick.wursten.be/Vermell_originaltexts_translations.htm.