Salvation is one of the chief joys of the Christian. Through this gift the separation from God and the slavery to sin we experience is put away. Our sins are put on the cross and we are clothed with the righteousness of Christ. These are things that should constantly grip us in thankful and sober joy. Yet, despite its weighty nature, we are so often prone to forget the magnitude of salvation. Even if we do consider salvation somewhat regularly we often do so in an abstract way, looking at it from merely an intellectual standpoint. Somehow over time the sheer force of the Gospel is lost on us. It wears down and we forget it, though we may pay lip-service to it. The opposite, however, should be true. We will never truly be able to comprehend the goodness of our salvation, the wickedness of our sins that made it necessary, the terror of the punishment that would have fallen on us, or the depth of Christ's love towards us for doing all that he did (and does) for us while we rebelled against him. We will never know and understand the goodness of the Gospel in whole, because it is beyond comprehension (Ephesians 3:19), but we should work to grow in understanding and rejoicing in it every day rather than allowing it to become a mundane aspect of our lives.
Many methods are employed by the writers of Scripture to motivate us to contemplate the Gospel and grow in it. One of the ways they do so is by making us consider the angels. This method will be the focus of this article. We have many examples of how we ought to regard salvation and the Gospel when we consider angels, both fallen angels and those angels that continue in holiness. Many of them serve the Lord and take great strides in doing their part in the plan of salvation for humans. Certain angels, however, have fallen just as much as the entirety of the human race. Indeed, many humans will share in the same awful fate as these (Matthew 25:41). While this is the case, redemptive grace is extended to one group (humans) and not the other (angels). God is not obligated to offer redemption to any that rebel against him, angel or human. However, he chooses to extend a grace of salvation to many of those humans that fell while leaving the angels in their chains and destined towards destruction.
Evidences Against Angelic Salvation
Before we get too far into this discussion, we should address the issue of whether or not fallen angels can be saved. We do not want to be hasty and make conclusions where the Bible is silent. Therefore, we will look at two categories of Scriptural evidence towards this claim, narratives and assertions.
Narratives
We cannot say with certainty how many instances of angelic falls there are recorded in (or outside of) Scripture, however in instances wherein a fall is recorded or fallen angels are discussed there is no mention of the possibility for their repentance. On the other hand, where these falls include humans, there is a certain degree of grace shown to the sons of Adam, even when punishment is still dished out. I will keep this brief and mention only two instances.
In Genesis 3, we have record of the first discussion of an angelic fall. Comparing Satan's fall with Adam & Eve's we see a completely different reaction from God. Both parties are severely punished, however, God extends grace to the humans. He promises them that through their seed they will overcome, they will be redeemed, they will be restored. Satan, on the other hand, is cursed with no mention of the possibility for redemption. Not only that, but the promise of reconciliation for our first parents is intrinsically tied to the destruction and further cursing of the tempter.
Later on, in Genesis 6:1-4, we have another angelic fall detailed for us in the form of sexual transgressions between angels and humans. In the immediate narrative, we are told nothing about the punishment of the angels. However, Jude records a bit for us in Jude 6-7. The angels that sinned are held in chains until judgement day. Again, no opportunity is stated for redemption; punishment and punishment alone are recorded. A similar thing happens in Genesis 6 as in Genesis 3 in that humans and angelic transgressors are punished (humans by flood, angels by chains), but the angels remain in punishment and the humans are mercifully given an out, in this case through Noah.
Assertions
We have little information in terms of explicit teaching on whether or not angels can be saved, but information is not absent. The most notable piece of evidence here is Hebrews 2:16-17:
For surely it is not angels that he [Jesus] helps, but he helps the offspring of Abraham. Therefore he had to be made like his brothers in every respect, so that he might become a merciful and faithful high priest in the service of God, to make propitiation for the sins of the people. (ESV)
In the first two chapters of Hebrews, we see two contrasts with angels. The first is the contrast between the angels and Christ. The author makes it clear that Christ is the preeminent one, the Son of God, the express image of God, and no angel comes close in comparison to him. The second is the comparison between the angels and mankind. It is said of us that Christ is not ashamed to call us His brethren and that if we are in Him, we have partaken of His flesh and blood. The author then reinforces this idea with the above quotation. It is us Christ came to save, not the angels.
In Jesus Christ we have something unique. The Lord desired to help man and so he had to be made like man in order to do so. Why? In order for him to be a faithful high priest and in order for him to make propitiation for the sins of the people. God put on flesh in order to intercede on our behalf, which is something he explicitly does not do for the angels.
On this point, Matthew Henry1 writes:
The angels fell, and remained without hope or help. Christ never designed to be the Saviour of the fallen angels, therefore he did not take their nature; and the nature of angels could not be an atoning sacrifice for the sin of man.
If Christ were going to redeem fallen mankind, he needed to come in human flesh as high priest and make propitiation for their sins. Were Christ to give saving aid to the angels, he would need to make propitiation for their sins as well and we are told here that this is something he does not do. God is a just God and he cannot let sin go unpunished. Sin has a price and that price will be paid for by an intermediary or by the offender, either way it will be paid. Jesus did what he did in order that God might be just and the justifier (Romans 3:26).
The next and final example we will look at is 2 Peter 2:4.
For if God did not spare angels when they sinned, but cast them into hell and committed them to chains of gloomy darkness to be kept until the judgment…then the Lord knows how to rescue the godly from trials, and to keep the unrighteous under punishment until the day of judgment,  and especially those who indulge in the lust of defiling passion and despise authority. -2 Peter 2:4…9 (ESV)
In this passage we are told that God did not spare the angels when they sinned. This is in stark contrast to every human being that has found salvation and reconciliation to God in Jesus Christ. Every human being has fallen short of the glory of God (Romans 3:23), but the wonder of the Gospel is that while we were sinners Christ died for the ungodly (Romans 5:8). For the sinning humans, Christ comes to redeem them. For the sinning angels, they are left to their just punishments. Peter, here, shows us that God knows how to punish the wicked and he knows how to protect his people. In this passage, we have examples of punishment and deliverance for humans, but punishment alone for the angels.
Elect & Reprobate
Though it is not in the scope of this article to detail the intricate discussions of election, predestination, and free-will that so entangle Christian communities, election as it pertains to the angels is a relevant discussion to mention here because of 1 Timothy 5:21:
In the presence of God and of Christ Jesus and of the elect angels I charge you to keep these rules without prejudging, doing nothing from partiality.
Here the apostle tells us that there are elect angels. This concept is mentioned only in passing so we must take care how much speculation we make, however, we do have information enough to come to some conclusions on this.
Election, from a human standpoint, involves us beginning as creatures with sinful natures. As a result of the Fall we begin our existences separate from and antagonistic towards God. The work of election is that of restoring us to a right-relationship with the Lord and from there on it involves a preservation on God's part to keep us from turning away from that grace we have taken hold of.
From an angelic stand point, we can conclude that the latter exists, but not the former. God provides grace to some angels, preserving them in that perfect state of holiness. Others, however, God has deemed fit to allow to rebel against him just as we do. Previously mentioned verses and the absence of any Scriptures to the contrary show us that once an angelic being rebels they are forever doomed to punishment. These God judges without hesitation and without the offer of salvation.
Frederick S Leahy comments on this in his book Satan Cast Out2 :
While all the angels collectively were holy by creation…some angels were the the objects of a decree of election which preserved them from sinning. The non-elect angels were created holy, but were not, as the event proved, without the possibility of sinning.
Naturally, the reactions to both of these groups differ. The elect angels and the reprobate angels have completely contrary ways of responding to the grace God extends to mankind. The attitude of the reprobate angels is obviously negative and is much discussed, both within and outside of the Bible. In Revelation 12 we see (through the imagery of John) the fury that Satan has against us because he cannot prevail against the Church of Christ. He pursues us with heavy persecutions as a result. We are saved by God's grace and that same grace protects us against the wiles of the devil and his comrades, all the while making them that much more indignant.
Be that as it may, I'd like to spend the majority of our time here discussing the response of the elect angels in regard to our salvation.
Things Into Which Angels Long to Look
Concerning this salvation, the prophets who prophesied about the grace that was to be yours searched and inquired carefully, inquiring what person or time the Spirit of Christ in them was indicating when he predicted the sufferings of Christ and the subsequent glories. It was revealed to them that they were serving not themselves but you, in the things that have now been announced to you through those who preached the good news to you by the Holy Spirit sent from heaven, things into which angels long to look. 1 Peter 1:10-12 (Emphasis mine)
To Christians, the elect angels are a great help. They protect us (Psalm 91:11) and minister to us (Hebrews 1:14). Along with the help they bring, they also rejoice with us and in the Gospel that is offered to the Lord's people. Read the above quotation from Peter's letter again. The Good News preached to Christians through the prophets by the Holy Spirit is what angels long to look into. They desire to study it and understand it.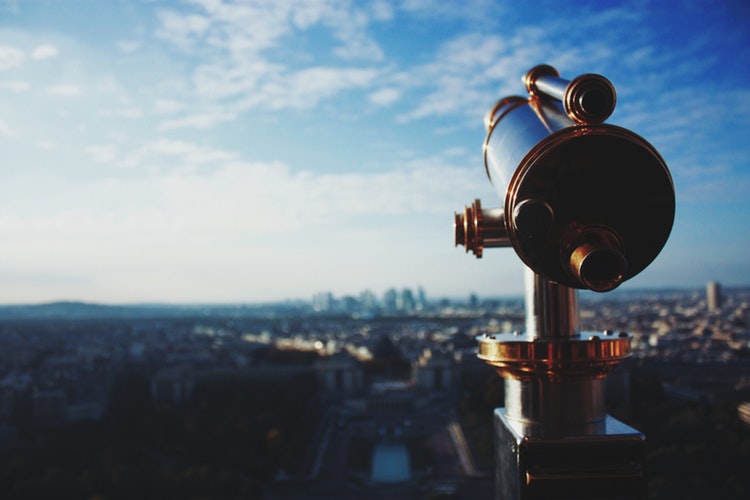 This may seem strange to us. Why would beings that do not benefit from our salvation be so invested and interested in it? But this really shouldn't seem so odd. Consider the way in which the Gospel is discussed in the New Testament. Jesus Christ and His Gospel are often referred to as a mystery that has been revealed (For example, Colossians 1:26-27 & Ephesians 3:1-12). Since the curse of Adam, we have had a promise of reconciliation, but with the sinfulness of mankind, how was this to be accomplished? Furthermore, we had glimpses here and there of a Messiah to come and prophecies to be fulfilled, but how would they unfold? The whole world was to be put under subjection, but as of yet, only the Israelites had claim to God's inheritance. Lastly, we had the destruction of evil promised and the crushing of the serpent's head, in what way would this take place?
We see the prophets diligently search the Scriptures to see what is to come. When is it that the prophecies will come true and by what means will this happen? It makes perfect sense that these people would study these things because it is they and their families that are affected by it. However, we see that the mystery of the Gospel is so great and so wonderful that even beings that do not directly benefit from it desire to look into it and understand it. These elect angels are our brothers in service to God and they are invested in seeking out his ways just as we should be. They rejoice in our salvation, knowing that we will accompany them someday.
Beyond this, let's consider the way in which they look. It is no mere academic pursuit for these beings. This longing desire to understand the Gospel that has been given to the humans is not simply a mind-exercise for them. To the contrary, they do all they can to be involved in the processes and rejoice greatly at every step.
In terms of involvement, as mentioned above, they help us by ministering to us and protecting us. Not only this, but they were responsible for delivering many of the messages of God by which we were able to look forward to some of these prophecies. Angels communicated to Mary about giving birth to the Christ (Luke 1:26-38) and confirmed this to Joseph (Matthew 1:20). We see something similar with Zacharias, as he is informed of his son John (Luke 1:11-20).
They also assisted the followers of Jesus after His resurrection as well as after His ascension. They meet and direct the women at Jesus' empty tomb (Luke 24:4-7), they give comfort as Jesus ascends (Acts 1:10-11), and an angel even frees Peter from prison (Acts 12:7-11). Not only do they help Jesus' followers, but they minister to the Lord Himself during his times of testing (see: Mark 1:13 and Luke 22:41-44).
Throughout the Gospel journey, we see the gladness of the angels in what is happening. At the birth of Jesus, a host of angels come and sing "Glory to God in the highest, and on earth peace among those with whom he is pleased!" (Luke 2:14). When God takes on flesh in order to redeem man kind, the angels praise him. Furthermore, we are told that they rejoice in heaven over sinners that are saved (Luke 15:7, Luke 15:10). 
And so we see that the desire to look into the mysteries of the Gospel that are revealed to us in Jesus Christ are not simply  for an academic or intellectual understanding. They are not puffed up in abstract knowledge. It is something that they have a true passion for and make great strides to be a part of.
Our Response
The take-away from this is two-fold.
First, we should consider how gracious God has been for extending his hands of grace toward us when we would naturally have rather nailed them down in rebellion. God's grace is not owed to anyone and the fact that he passes by angels is a key proof in that. In his wonderful book All Love's Excelling3 , John Bunyan writes:
A second thing whereby the love of Christ in some degrees of it may be known, is this: That he should pass by angels and take hold of us. Who so considereth the nature of spirits, as they are God's workmanship, must needs confess, that as such, they have a pre-eminency above that which is made of dust: This then was the disparity 'twixt us and them; they being, by birth, far more noble than we. But now, when both are fallen, and by our fall, both in a state of condemnation, that Jesus Christ should choose to take up us, the most inconsiderable, and pass by them, to their eternal perdition and destruction: O love! love in a high degree to man: For verily he took not hold of angels, but of the seed of Abraham he took hold (Heb. 2:16)
This ought to be our response. What makes God to save us and not the angels? It is nothing but God's grace. Were God to look at the more powerful or more noble of the species in deciding whom to help, it would surely have been the angels. But God chose the lowly species for no other reason than that it pleased him to do so. This should cause us to make very frequent and sincere prayers of thanksgiving. It should cause us to marvel and be humbled at the works of God and his mercy towards us, to meditate on the mediation of Christ and to preach the Gospel to ourselves daily.
Second, we should consider the response of the elect angels. They are not helped by our salvation. Their fallen "brethren" (for lack of a better term) are not helped by our salvation. In fact, the condition of fallen angels is only worsened by it. Yet, not only are the holy angels happy about our salvation, they actively seek to study it and aid us in it. So great is the Gospel that creatures that do not benefit from it act as though they did. If angels are consumed with looking into the salvation of a people that they are not a part of, shouldn't those people that are saved be more consumed? If the angels desire to aid in the process of salvation, shouldn't we as recipients be more willing to spread the Gospel and minister to our brethren?
Through the promises of grace made to a people deserving only of wrath, through the numerous prophecies given to those people, through the incarnation of God himself, through the atoning death of Christ and through his subsequent resurrection the mystery of God's salvation is revealed to us. Though this mystery is in many ways revealed, there is still much to grasp about what has been revealed and there is still much to come as we await the resurrection of our bodies and the judgement of both men and angels.
A careful look into the spiritual realm can be beneficial. We ought to be aware of what is happening around us. Furthermore, we should not neglect the way that Scripture treats the spiritual realm. It is real and there are beings that reside there who's aim is to help, while others' is to harm. However, our main focus of meditation and study ought to be the Gospel, it ought to be our salvation. Phillipians 2:12-13 tells us to "work out our salvation with fear and trembling." We need to seriously consider the impact of the Gospel in our lives and where we would be without it. So, let us rejoice and meditate on the salvation gifted to us, especially in light of the fact that God was under no obligation to give such a gift to any and even more particularly that this gift extends only to man when so many angels fell as well. Let us be like the elect angels and long to look into these things.
References:
Henry, Matthew. Matthew Henry's Concise Commentary on the Whole Bible. https://biblehub.com/commentaries/hebrews/2-16.htm. 1706. Thomas Nelson. 2003. Accessed September 23, 2018.
Leahy, Frederick. Satan Cast Out. p 13. 1975. Banner of Truth Trust. 2015.
Bunyan, John. All Loves Excelling. p. 91-92. 1692. Banner of Truth Trust. 2017.